So it's been about two weeks since retaking on this project.  Week one saw a fair amount of mailings go out while I had to leave town for about a week for work so I didn't get many mailers put together that week.
A couple quick response successes are as follows:
Ray Soff x2
Sid Bream x2
Matt Young x2
Jamie Quirk
Phil Garner
All returns were either eight or nine day turnarounds so very quick indeed.
That was Friday when I returned from my trip – Saturday had the following successes: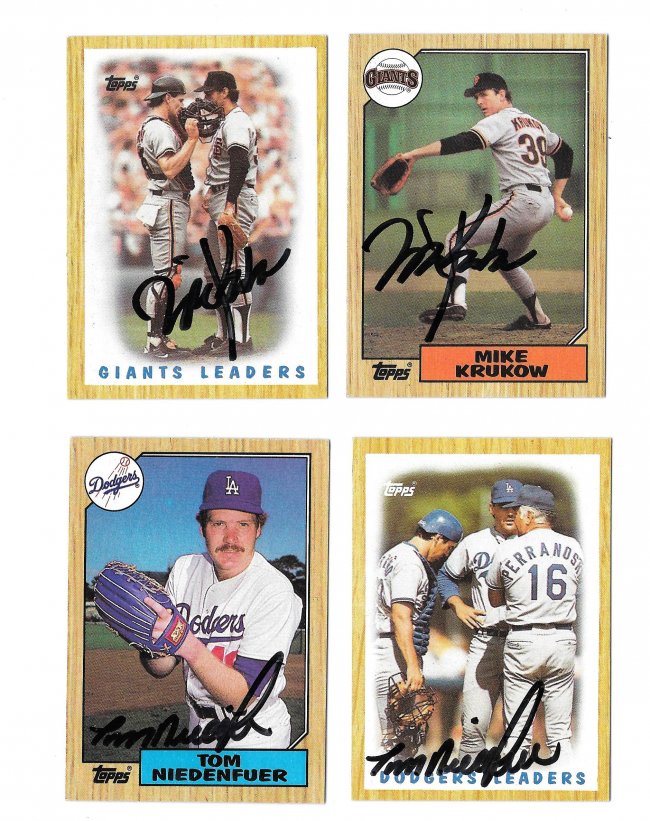 Mike Krukow x2
Tom Niedenfuer x2
Again, both of these returns were nine days as well.
The following week left me very optimistic however there was nothing but bills and junk-mail in the box for the duration of the week.  I did get one card returned unsigned from Gene Tenace (I am now trying to get an auto of every person represented on the Team Leaders cards) but that was the only sign of life (or lack-there-of) that I saw this week.
As I get restarted I am sure there are going to be spikes and valleys in the returns – the reality is that I didn't have a ton of requests out so going a full week with no returns shouldn't have been all that surprising.  It was a busy submission week last week though with about 35 total envelopes sent out – we should see a bit of an uptick in activity moving forward so stay tuned.
STATUS – Where do we stand today?
For those interested, here is a link to my folder where all of the successes, failures, checklists, deceased, etc are housed.
https://sportscardalbum.com/u/timber09/a/1987-topps-ttm#!page=2
Stats as of today:
24 Deceased (6.49%)
129 Successes (34.86%)
15 Purchased (4.05%)
62 Pending (16.76%)
140 Failure (37.84)
These percentages are based on my activity and the total number of cards I have gone through so far, not the totals in the set.  All cards that had not been returned from previous mailings are now written off and qualify as "failures".
You can see that there are currently 62 pending cards in the mail (with many more to go out this week) so keep your fingers crossed that we have a full mailbox!